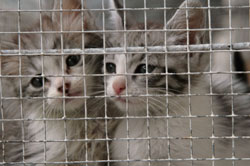 We know that leaving a pet during vacation or familyemergency can be stressful,especially if your pet has specific medications togive or medical conditions thatneed monitored. In our Anna office, we offer boardingservices for trips bothexpected and not expected. We supply your pet with bclean kennels and bedding,high-quality gastrointestinal diets, bowls, and outdoor activity. If your pet is on medications or a special diet, our kennel technicians are trained to follow these directions as required by your pet. We offer toe nail trims and bathing services at additional cost prior to your pet's departure. If your pet becomes ill while he or she is staying with us, our doctor's are available to perform a wellness check and provide treatment as needed.
For the safety of your pet and the other pets that stay with us, we do require that your pet is current on all vaccinations as outlined in our wellness plans. All dogs must be current on their distemper, parvovirus, bordetella(Kennel Cough), and rabies vaccines while all cats must be current on feline distemper, feline
leukemia, and rabies. If you have questions about our boarding facility and services, please feel free to ask any of our qualified staff members.